Schools and Young People
Our School Bees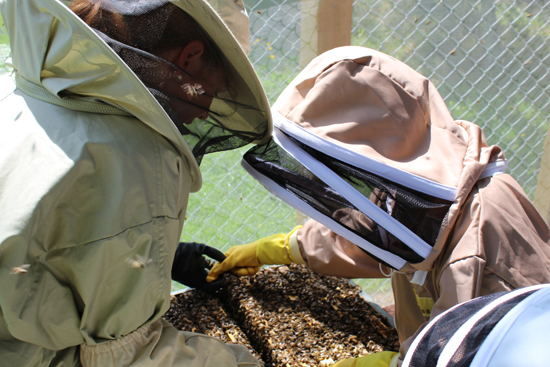 Pupils of Heron Hill inspect their hive.
In 2017 the International Meeting of Young Beekeepers took place in the UK. This coincided with a growing interest in 'Bees in the Curriculum' in UK schools and in keeping bees at school. There is a great need to pass on skills to young people.
In the Kendal area two schools that we know of have honeybees; Kendal & South Westmorland Beekeepers' Association and BeeEd have been involved with both of these projects. Our first group of young beekeepers will be taking the British Beekeeping Association Junior Certificate Assessment this year. The impact that beekeeping is having on the children we know is immense, there is far more to be gained from this than one would immediately assume. For this reason BeeEd has a section entitled Our School Bees (because that is how the children often refer to their bees) and we are generating support material for young people and gathering donations to enable us to make small grants to youngsters who apply to us for money for wildlife and pollinator related projects.
Please contact us for information about beekeeping in school so we can help or put you in touch with other people who are involved.
We can run courses for school staff, parents and governors who are interested in pursuing beekeeping in their schools, we charge very little for this.
Download our BeeSpy.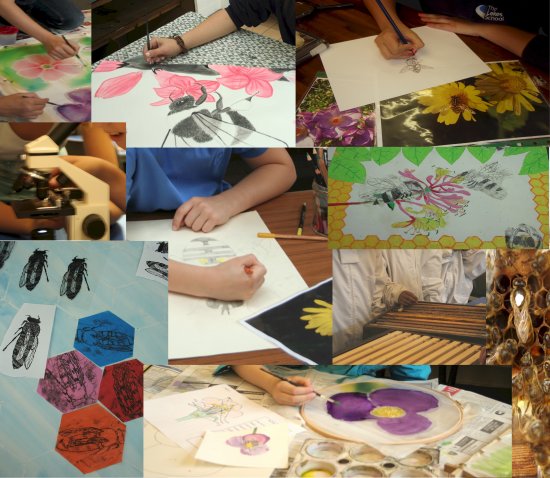 Artwork created by students working with artists Kate Reid, Catherine MacDiarmid and George Grange.