Schools and Young People
We visit schools and young people's groups to give information about pollinating insects, especially bees. In 2010 we collaborated with the Brewery Arts Centre in Kendal to develop the Bee Creative Project.
Bee Creative
: A project devised and created by the Brewery Arts Centre.
An exciting pilot project about bees for young people. Funded by Cumbria Tourism & Conservation Agency, Cumbria Community Foundation, and the Co-op.
You may be aware that there is increasing concern about the fall in numbers of all bees. We think it is important for young people to develop a stronger understanding of their importance and the environmental issues affecting their decline. Through a variety of creative and science-based activities, children are discovering about their habitats, the importance of different bees and bee impersonators pollinating a wide variety of plants and how crucial this is for our food chain. We have taken a glass 'demonstration' hive to schools so those children can see the workings of a beehive. Some of the activities are outside working directly from observation and the work is being developed into drawings and paintings as well as a collaborative piece in class. Children have also had the opportunity to look at the detail of bee body parts using microscopes and pre-prepared slides that we provided. We bring a collection of plants (grown from local seed) into the school a week before the project starts to attract a variety of bees and other insect pollinators, which can be easily caught, studied and released. We worked with Ambleside and Staveley Primary Schools and the Lakes Secondary School.
Download our BeeSpy.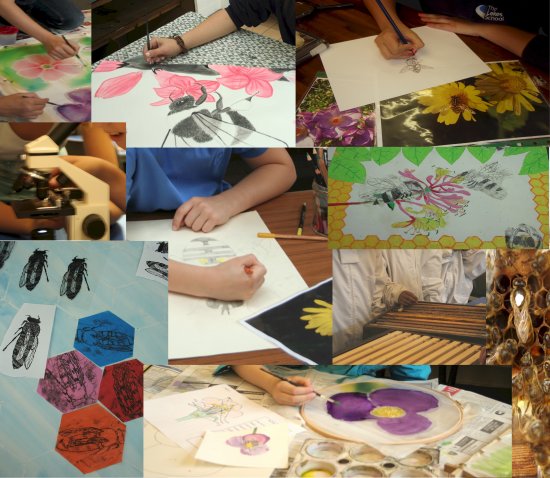 Artwork created by students working with artists Kate Reid, Catherine MacDiarmid and George Grange.