Brigsteer Bee Reserve
We bought the 17 ½ acres of land in 2007. It was originally owned by Trinity College, Cambridge and along with other land and farms in the area was sold in 1936. Tenants farmed it and during the Second World War part of it was ploughed to grow barley for fodder and to provide hay. For the last 20 years it was managed for wildlife and grazed by cattle. The huge old hedges provide a huge crop of autumn berries and good nest sites.
Our aim was to create a private nature reserve, we concentrated on clearing ragwort so that the land could be grazed again and we began laying the hedges to renovate them. As we have laid the hedges we have fenced to protect them from stock and created the teaching apiary. We winter graze and remove stock in March so that the flowering plants are not chewed off. All money from the courses we run and talks we give is used to develop and care for the reserve.
Five years on we have repaired all our internal boundaries, renewed all our gates and repaired the public footpath that runs through the reserve. Scrub has been cut back in favour of flower rich pasture, woodland is being coppiced and a small shaded area has been planted with home raised native trees. The haymeadow has been cut each year and knapweed and clover are beginning to appear in significant quantities. A large orchard has been planted containing fruit trees originating from the Lyth Valley.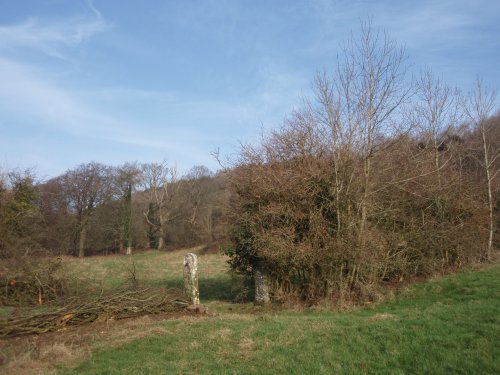 Hedgelaying and teaching apiary gate stoops.