Beekeeping Courses
Introducing Beekeeping is run for complete novices and those wondering whether to keep bees. The course runs over a weekend and provides enough information for beginners to start keeping a couple of hives. Bee suits, gloves, beekeeping equipment and hives are all available to 'try' before you go home and buy and we would encourage you to do this. The course covers the place of bees in the environment, basic beekeeping skills, information about bee diseases, how to site and manage a small apiary. It is practical and theoretical. We will show you books, tell you about beekeeping organisations and websites and help you get in touch with your local beekeeping group at home for continued support.
The courses involve some evening work and lunch and supper are provided during the weekend. There are plenty of places to stay locally; you may want to extend your visit while you are in the Lake District. See our Events page for available dates.
Intermediate Beekeeping courses are one day courses designed to follow on from Introducing Beekeeping for those who are very new to beekeeping and have bees. Topics such as swarm control, making nuclei and disease management are covered.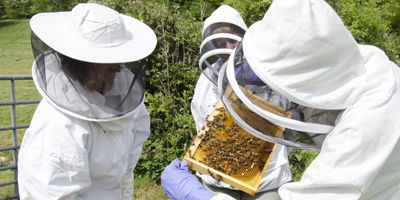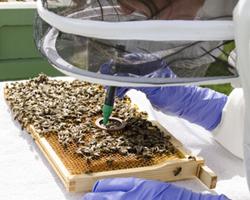 Teaching Apiary.