Bee Identification Days
Concentrating on bumblebees, butterflies and other pollinators – a chance to walk in the countryside and enjoy standing in our lovely hay meadow surrounded by flowers. At the right time of year you can gather some seed to take home to sow your own patch of meadow flowers.
Brigsteer Bee Reserve has come a long way – we need more flowers but we are getting there. Bee ID days give people the opportunity to learn about pollinators and understand how they can modify their gardens, balconies or window boxes to support pollinating insects. The days are weather dependent of course but with luck and a bit of sunshine we hope to be able to show you the common pollinators and help you begin to learn the differences between them. We can also show you how to manage gardens to provide nesting sites for bees.
Young people are very welcome although small children would probably find an afternoon of catching bees in tubes rather boring. Well behaved dogs are welcome but must be kept on a lead. The sessions involve walking a couple of miles, crossing stiles and walking on slopes so suitable footwear is essential.
Many of the groups who come are from WIs or wildlife and natural history societies who have perhaps heard one of our talks at a winter meeting and then want to follow up with a visit in the summer. Sometimes we just arrange to meet up with one or two people who want to come along, in 2017 we had visitors from the Netherlands who were in the area on holiday. We are close to the new National Trust Park End Moss Nature Reserve, you might like to visit both nature reserves for a day out. We can send you information. Extend your day and eat at the Wheatsheaf Inn in the village.
We can lend you tubes, lenses and charts for catching and identifying bees. BeeEd tea, coffee and cakes usually form part of the day out too. We do not charge for these days but any donations go towards running the reserve.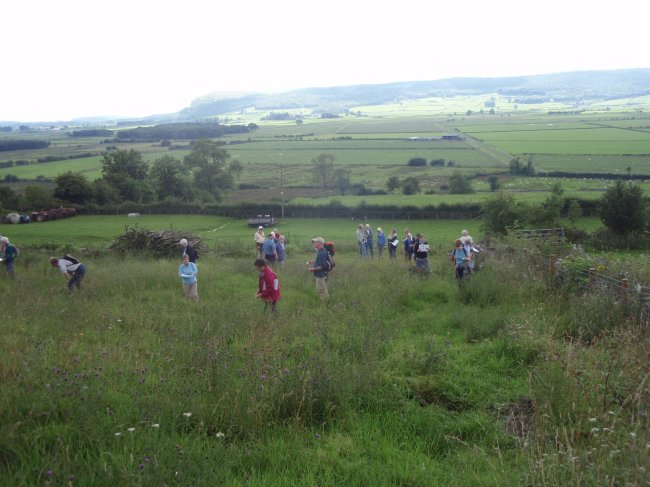 Bee Identification.